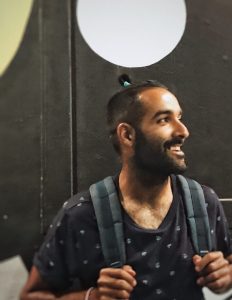 "I don't want to be one of those guys. Maybe the English side of me comes out and I'm too much of a gentleman. I think I've probably missed out on things that could have happened because of that. Sometimes I feel that if I drank, life would be a little bit easier. I wouldn't think so much, I'd just do it. But I never liked the taste. When you don't drink, you have no excuse the next day for anything stupid that you did. You try and kiss a girl and she pulls away and it's like, 'I wasn't even drunk. I calculated everything in my head and thought this was a good idea.'
I got kicked out when I was seventeen, so while my friends were out drinking, I was working at clothes shops and in cinemas and bars picking up glasses for forty pounds a day. That was not a lot of money and I wasn't going to spend it on drinking. I've tried everything, and my palate just never developed like that. When I drink now, either I'm really depressed or I want to be reckless."
How We Met

Spanish folklore paints a colorful and cautionary tale about June 23, known as Noche de San Juan. The seaside cities come alive with revelry, and local tradition dictates that the secret to happiness in the coming year is to jump over beachside bonfires and midnight waves to unlock the cleansing powers of fire and water. Amid a flurry of WhatsApp messages, our international blend of friends and soon-to-be friends cobbled together a plan for taking in the festivities. We were a hodge podge of classmates and roommates and travelers, all coming together for the same reason as everyone else in Spain that night: to grab our own little piece of good luck.
It was the end of a stressful day – a rarity in my bright and contented life – when I met Javier for the first time that evening. He had a ready smile, a lady-killing British brogue, and a man bun, all proven remedies for any warm-blooded American girl. When I emerged from the tepid waves later that night, dripping with saltwater and good fortune, he offered me his jacket and the two of us wandered off in search of bodeguitas and respite from the dull roar of the festival.
We sat shoulder to shoulder, toes squished in the night-cooled sand. He showed me his drone videos and talked about the life he left behind in London as a designer with a flat and a car and all the trappings that soon rang hollow in the wake of his best friend's death. I told him about the blog and asked for his advice on the crossroads I found myself muddling through. An easy camaraderie settled into the nooks and crannies of silence between our stories. In the simplicity of this newfound friendship, however fleeting, I had found my good luck.
A Moment with Javier

Javi is exactly the kind of guy you want to meet on the road – kind, genuine, and effortlessly cool. I always get nervous when I ask someone to be featured on this site and that was especially true with him. There is a deep authenticity and a softness in his presence that I was eager to capture. He is who he is, and it's an ease of being in the world that has been hard won.
I spent my last evening in Valencia with Javi at a charming little coffee shop in the hipster enclave of Ruzafa. We ordered café con leche and sipped it slowly (the way you do everything in Spain) and he laced his tales with humor and unassuming inspiration. Motorbikes buzzed by and the street lights crackled on around us as the hours slunk into the night. We talked about those lit-up moments that travelers are occasionally gifted with. They happen on curbsides and on beaches, in cafés and apartments – sometimes with people who might never cross our paths in another time and place, always in the wee hours of the morning when everything else is stripped away and we are our barest selves.
It struck me then that this was just such a moment. Here we were at 2 a.m. under the dim glow of the café sign, the batteries on my recorder long since dead, coffee cups empty and hearts full. I sat back with a smile and listened to Javi talk about self-awareness, what it feels like to be lonely on the road, and the beauty of connection. "This," I thought, "is my favorite kind of human."